Madrid Padel Camp 2022 and Masters WPT. Introduction.
We are very proud to announce this padel camp in MADRID, a premium course for adults, juniors and families in the beautiful capital of Spain, full of restaurants, bars, tapas and nightlife.
The course is taking place on the same dates as the Madrid WORLD TOUR MASTERS. We will have tickets available for everyone coming to the course and we'll enjoy being close to you, the TOP players in the world.
Enjoy the amazing atmosphere in Madrid, where you can improve your padel level in a highly personalized quality padel course spending a great time in Spain.
Since 2003 we have been able to organize numerous padel camps around the world and for us, it will be a pleasure to be able to count on you in this very important event.
We will work with our technique through our methodology, the tactical, mental and movement on the court through exercises that will make you improve a lot and quickly.
Padel stage dates:
From 21st to 25th September 2022 and you can grab both, 3 and 5 days.
Accommodation and Padel court facilities.
World Enjoyer can be offering you a recommended hotel near the club facility, but feel free to book by yourself anywhere in town.
But it's particularly advisable to book as close as possible to the court's facilities.
We'll let you know a different range of accommodations once the club facility is definitely confirmed.
Format camp and Padel stage:
This is a provisional schedule where you can see the daily plan every day in the camp. The players will enjoy a lot the sports sessions during their unique experience.
This is a provisional schedule where you can see the daily plan in the camp.
Each day we're going to work on different padel shots according to the improvement we develop.
From Wednesday to Saturday we're going to practice volleys, bandejas, viboras, defensive and attacking shots, glass wall workout, smash, serve, couple tactics, be efficient, and competitive.
WEDNESDAY
15.00 Padel Session. Technical work on the court. Improve your skills, movements, and accuracy on the padel court.
From 17:00 onwards (scheduled TBC). Padel matches with local players.
THURSDAY to SATURDAY
10.00 Padel Session. Technical work on the court. Improve your skills, movements, and accuracy on the padel court.
2 days WPT MASTERS (Highly recommended and TBC). Ask for tickets.
SUNDAY
10.00 American league (groups according to padel skills and coaches participating). We're going to play matches all together (depending on league group).
12:30 Shower.
13:00 Closed and awards camp ceremony.
Beverages and farewell.
We're going to organize different padel skills groups in different courts according to the number of players participating.
Our padel skills categories are Beginner, Beginner +, intermediate and intermediate +.
The number of players participating in the camp per court is a maximum of 4 people for each court
We will organize you according to your pádel level and some changes would be considered in order to be placed in the right one to enjoy and improve your game.
In this camp, we will give you completed feedback during the camp, consequently, we will provide a professional analysis for your future improvement.
Padel Camp Objectives:
Train and improve your padel in an amazing environment in autumn.
Receive high-quality instruction from our experienced international coaching team.
Enjoy an unforgettable experience in a very nice environment. The program will cover all aspects of player development including technique, tactics, movement and physical training.
Receive training and matches from our professional staff. Contact us for details of the camp!
How to get Madrid?
Madrid airport is the best option. Adolfo Suarez airport is an international airport very good connected. The venue is 15 minutes far from the airport.
Goals of Padel stage.
Evaluation and analysis of strong points and areas to improve.
Develop your skills and new shots to be more competitive in your padel.
Consolidate all the areas you have improved during the padel lessons.
Improve your tactical skills with new variations to avoid the predictable game.
Tactics with your partner.
increase the level of your strategies.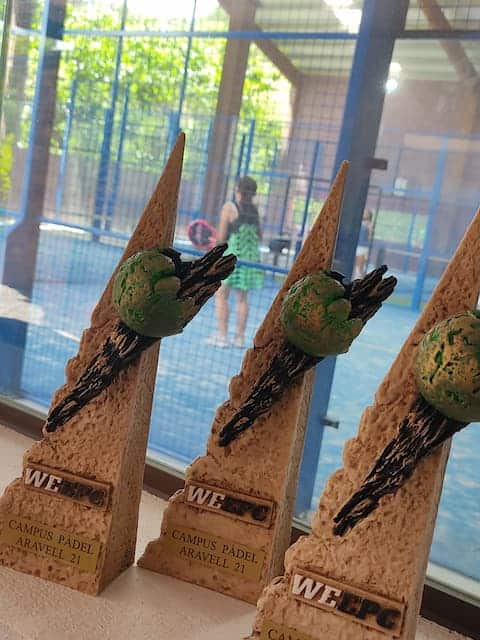 Information, Registrations and bookings.
Phone number: +34 637 444 869
Email: info@worldenjoyer.com
Web: www.worldenjoyerpadel.com
Premium Package: 5 days training – 420€. The tickets are not included in the package.
Silver Package: 3 days training – 300€. The tickets are not included in the package.
Limited places!
Payment will be made by bank transfer.
Contact us and we will keep your place! Limited places.
September 21 @ 15:45 — September 25 @ 16:45
Madrid
September